Posts Tagged 'pc'
Couple weeks ago, my GTX 780ti died on me all of a sudden. I was getting tons of white boxes and lines all over both of my monitors. After doing every textbook diagnostics, it was time for my to contact EVGA to check on my warranty. Thankfully, I had about 50 days left before the expiration date. So I sent mine in through UPS with their pricey shipping label ($28) and waited a few days. Afterwards, I got an email response from EVGA about sending me a replacement card. Curiously, I googled up the serial/product number that was in the email, and surprisingly, they sent me the GTX 980ti. What an upgrade! I couldn't be happier. That saved me $500 right there. It's too bad they didn't include a backplate on that card but whatever. Back to intense gaming! 😀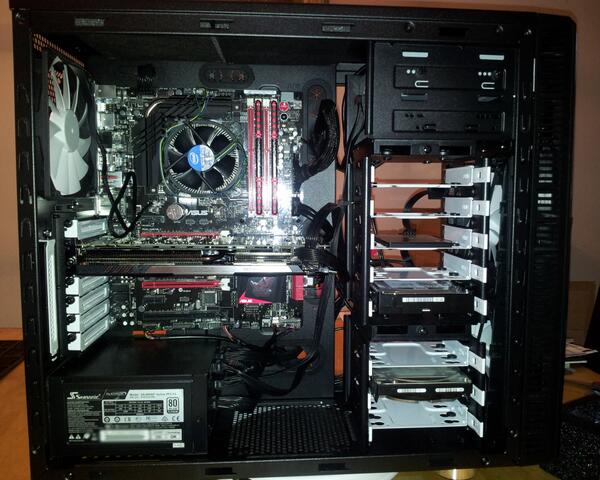 i7 4770k
ASUS MAXIMUS VI HERO
CORSAIR Vengeance 8GB (2 x 4GB)
EVGA GeForce GTX 780 Ti Superclocked ACX Cooler
Samsung SSD 830 256gig
WD Black 1tb
WD? 500gig
Seasonic SS-660XP2 80 PLUS PLATINUM
Fractal Design Define R4 Case
External HDDs x3 (WD 1tb) (WD 1tb portable) (WD 500gig portable)
I'm future proof for at least 10 years.
By the way, please shut the hell up about the stock heatsink, tech elitists. I have no plans to overclock. I like to keep things efficient by saving power and care less about aesthetics. So just deal with it and move on.
Let these pics do the talking.
This marks as my last AMD PC. From now on, my next upgrade will be either Intel or nothing.